Although our Australian Christmas is more suited to cold desserts like Ice cream pudding, there is nothing like a traditional boiled Christmas pudding adorned with a brandy flame to make Christmas feel extra special. This is a treasured recipe. 
For over thirty years our family has used the same pudding recipe. The sweet fragrance of batches of puddings boiling on the stove would fill our house from late November as my mum would prepare to gift them to family, friends or to a School Raffle. I took on the responsibility of making the puddings when I was about twelve. I hope one day to pass it onto my own children. 
For the sake of sentimentalism, I have kept the measurements in pounds and ounces as my mum originally scribbled them down but I've included standard measurements in brackets.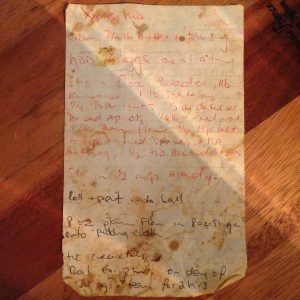 Traditional Boiled Christmas Pudding
Makes 2 large puddings each serving 20+ people, or 4 small puddings each serving 10-12 people. The mixture is easily halved if you don't require that amount.
Ingredients
1 pound raisins (455g)
1 pound of sultanas (455g)
8oz dates or dried apricots chopped (225g)
8oz mixed peel, glace cherries chopped or almonds (225g)
4oz currents (115g)
8 oz of plain flour (225g)
1 Tb mixed spice
2 tsp nutmeg
1/2 tsp bicarb soda
1/2 cup brandy (or orange juice if prefered)
12oz Butter (340g)
8oz brown sugar (225g)
4 eggs
8oz breadcrumbs packet breadcrumbs or freshly processed (225g)
Extra 8oz plain flour (225g)
Extra 8oz caster sugar (22g)
Calico (material) to wrap, boil and hang puddings in
Note: Every year different dried fruits and nuts are included in our pudding mix. It's a good opportunity to empty the cupboard of any dried fruit that is lurking in there. As long as the total comes to 1.5kg you can't go wrong.
Method
Place dried fruit in a large bowl and stir through brandy, bicarb soda, mixed spice and nutmeg and allow to sit until needed.
Cream butter and brown sugar until fluffy.
Add eggs and beat until well incorporated.
Stir in breadcrumbs, dried fruit mix and flour.
Divide pudding mix up into portions (2 large, 4 small, mini puddings etc) and roll into balls.
Wrapping, cooking and maturing
The four and sugar mix forms a coating around the pudding which becomes the pudding skin giving it a smooth white
Cut calico into squares to fit puddings
Divide pudding mix up to make the desired number of puddings (2-4 works best)
Mix plain flour and caster sugar together and make a small mound in the centre of a square of calico
Place pudding on top of flour/sugar mix then add more flour/sugar mix to the top and sides*
Take the sides of the calico and tie securely in a bundle with string.
Cook in a pot of simmering water for 4hrs (quarter mix puddings) or 6hrs (half mix puddings). Ensure puddings don't touch the bottom and burn by suspending them on the side with string.
Once cooked, take out of the water and hang up in a cool dry place. In more humid climates puddings can be kept in the fridge to mature. Maturing time can be anywhere from two weeks to a year.
*The flour mix will fall off but it's fine. The most important part is the bottom as it becomes the top after cooking.
Serving
On the day of serving the pudding suspend the pudding in a pot of simmering water and cook for 2 hours. 
Unwrap from the cloth and if desired add a generous splash of brandy over the top and light carefully with a match. The pudding will arrive at the table with a soft blue flame which will delight and surprise family and friends.
Serve with your choice of ice cream, cream, custard or rum butter.
*Photos showing how to put puddings in cloth are below.
From our family to yours Merry Christmas and a blessed new year,
Carly xxx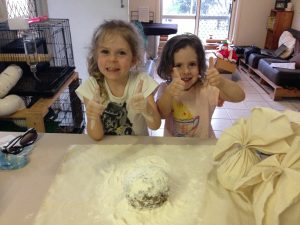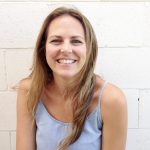 Subscribe now and receive 5 Ways to Save Time & Money in the Kitchen